In the spring of 2001, Seattle singer/songwriter and multi-instrumentalist Wes Weddell captivated the Northwest with a 65-day tour through all corners his home state gathering local stories and lore. The University of Washington-sponsored 'Project' earned him the inaugural Mary Gates Venture Fellowship and led to the My Northwest Home CD. It also planted some deep roots for Wes in the local music community.
Songs to Get You From Here to There followed in late 2006, marking the formation of the full 'WW Band' and capping a busy year that also saw "Carry On" win first place in the Tumbleweed Music Festival Songwriting Contest—an event Wes now hosts annually. He also arranged "Carry On" for choral performance, premiering the poignant, true story of a World War II bomber pilot with the Nelsen Middle School Concert Chorus (directed by WW bandmate Brian Hoskins) in November, 2006. (In 2011, Hoskins' Lindbergh High School Ad Astra choir commissioned and premiered another choral work from Wes: "Sing to Me.") Songs was named one of the late Performing Songwriter Magazine's Top-12 DIY picks in June, 2007, and its folk radio successes helped Wes—ever the champion of the Emerald City's local scene—expand his touring circles.
Propelled by versatile character voices with compelling stories to tell, the 11 songs on 2010's By the Side of the Lake comprise some of Wes' strongest work—and performances—to date, exposing his rural roots and exploring threads that run through smaller communities as they grow and change. The full band returns to deliver diverse arrangements that nonetheless feel crisp and of-a-piece: unashamedly contemporary at full-throttle, but not afraid to leave the expertly-crafted narrative to a solo banjo or mandolin at times, too.
Beginning in late-2010, Wes began participating in The Bushwick Book Club - Seattle, a collective of songwriters who write and perform original music inspired by each month's literary selection. After nine appearances, those songs found their way out on a digital-only release: The Bushwick Book Club Demos, Vol. 1.
A native of Pullman, WA, Wes also keeps busy as an in-demand teacher and sideman on a variety of instruments, including regular work with the beloved folksinging duo Reilly & Maloney since 2003. That same year he founded Puget's Sound Productions, a federal 501(c)(3) non-profit organization dedicated to creating community live-music spaces around the region and supporting local musicians, which he continues to run.
Pics
Full-Resolution Photos
(Click on thumbnails to access; larger sizes/selection available upon request)


| | |
| --- | --- |
| PHOTO: John Wright | PHOTO: John Wright |
Video
By the Side of the Lake
(Dusty Shadows Music, DSM-1001)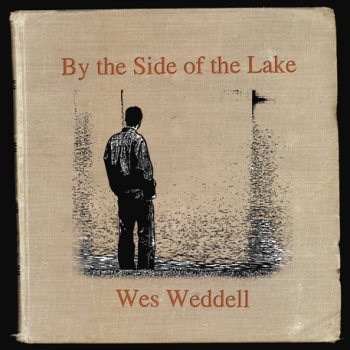 Seattle singer/songwriter Wes Weddell is not only a jewel of the Emerald City's musical crown; he's also one of the biggest boosters of DIY music in the American Northwest... The idea of a folk singer/songwriter as Renaissance Man may be hard to get your head around, but Weddell breaks the mold. His latest album, By The Side Of The Lake, features Weddell's masterful story-telling style and distinctive character voices against the backdrop of musical arrangements that simply won't leave you alone...
If it wasn't apparent before now, By The Side Of The Lake makes it abundantly clear that Wes Weddell is a master craftsman as a songwriter. Weddell's easy going delivery and simple mien make him instantly likeable, whether on CD/MP3 or on stage. Weddell has attracted a crack band over time, but it's the singer/songwriter himself that keeps people coming back again and again. By The Side Of The Lake brings folk music back to its roots; telling true stories about real people and places. Weddell will make you laugh and make you cry; inspire anger and thoughtfulness. He'll entertain and educate you with his songs if only you will listen. Like the great bards of olden times, an encounter with Wes Weddell will leave you a little richer in mind and spirit than when you started. By The Side Of The Lake is a Wildy's World Certified Desert Island Disc; a must-have album. [5 Stars (out of 5)]
-Wildy Haskell, Wildy's World (June 2010)



Wes Weddell writes intelligent, thoughtful songs that feature a strong narrative element and there will always be room for his ilk in the Americana world. -Americana UK (June 2010)
Eleven mature and finely crafted folk tunes with the same rural and roots feeling as his previous works...an excellent song smith [who] writes compelling story songs to accompany his fine playing. -Billie Dove, Folk Crunch
A definite maturing of style and writing. -Terry Ferdinand, BishopFM (UK)
Wes Weddell is old enough now that he can be writing like that...[though] he was writing like that 15 years ago! -Dan Maher, Northwest Public Radio (Inland Folk)
Will effortlessly find its way into your CD player. -altcountryforum.nl (Full review in Dutch)
Songs to Get You From Here to There
(Dusty Shadows Music, DSM-0601)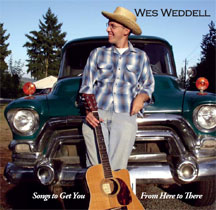 Ooo, ahhh; a little whoopie ti-yi; and maybe a little sigh of relief: the new Wes Weddell record is here, and it's a great pleasure to say that it's a great, great album. A couple of years ago, the young Wes roamed, rambled, and followed his footsteps all over Washington, writing songs about the state, with results so stunning he was widely hailed as no less than the "New Woody Guthrie." Gulp! That kind of praise has done in scores of artists, but with this new album, Weddell proves he's as good as the hype made him out to be. Having never sought the New Guthrie label is a large measure of his success: he's got his own ideas, his own songs to sing, and he's got the talent, strength and confidence to go his own way. It's appealing and charismatic, and it comes through on his record. As the title implies, he's still a ramblin' guy – not for nothing is he leaning on a restored '54 Jimmy on the cover – and while no songs here are leftovers from Northwest Home, he admits that some of the ideas were still "in his system." "Autumn's Calling" is one, "Another Postcard," the instrumental "'Shtucna's Jig" and "Hills that I Call Home" are others. Now, though, Weddell is older, with more experience with relationships behind him and fresh observations on that front. Weeks away from his beloved are like being in "The Tunnel." Wondering if a union is going to work, and why, produces "Nights Like These." Weddell also steps directly into history itself, with a moving story song based on conversations with a WWII vet. The sound of this album is pretty Country, as Weddell is backed by big, fat strumming and fiddling, some banjo and backup vocals, sprinklings of mando, cello and whistle, plus some occasional organ and drums. The songs bubble happily, even if some of the topics are dour, so that this is a consistently enjoyable listen. Let there be no doubt: Wes Weddell is a major Northwest artist, a major talent in American music, and he's here for the long haul.
Tom Petersen, Victory Music Review (February 2007)



Folk, rockabilly, and lonesome cowboy waltzes mingle in Seattle-based Wes Weddell's songs. A troubadour in the truest sense, Weddell sings of broken hearts, winds upon the plains and "gortex grass skirts." The highlight of the record is "You Left Me With No Choice." "My heart still beats your number," sings Weddell, giving loneliness a new rhythm. Instrumentation is sparse, mostly acoustic guitar, bass and brushes on a snare, while banjo, fiddle and Hammond organ are friendly neighbors who peek their heads over the fence from time to time. If you're looking for a folksinger for your road-tripping, take Wes Weddell along for the ride.
Mare Wakefield, Performing Songwriter Magazine (June 2007)
Miscellaneous
By the Side of the Lake Radio One-Sheet
Songs to Get You From Here to There Radio One-Sheet
WW Concert Flyer Template (8.5 x 11")