Northwest performers & friends in it together
February 26-29   *   San Diego, CA
---



**  HOTEL ROOM  # 1105  **



** In-Room "Pajamma Jam" Open House 9:30-10:30p ** Stop by, shake a hand, pick a tune!
Back to top of schedule




*   *   *



** In-Room "Pajamma Jam" Open House 9:30-10:30p ** Stop by, shake a hand, pick a tune!
Back to top of schedule
---
Jenn Adams is one of today's most distinctive and original singer/songwriters. Gathering elements from a diverse musical background, her style is clean and creative. Raised on the driving rhythms and lyrical roots of the 60's songwriter tradition, Adams creates a thought-provoking sound that is clearly her own. Infectious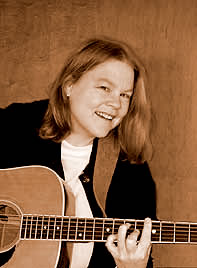 Both Adams' first release, Water, and the critically acclaimed second release, In the Pool, are now available on Hermon's Records on the Taxim label. Taxim is one of Europe's foremost specialists in roots music, i.e. blues, roots-rock, country, folk and all points in between. Adams has received rave reviews on both sides of the Atlantic and is now firmly planted in the contemporary singer/songwriter genre.
One of the most exciting young artists to emerge from the Northwest folk scene, word of Adams' talent is spreading. She is a winner of songwriting awards from the "New Folk" in Kerrville TX to the prestigious Falcon Ridge Folk Festival in NY to the Rocky Mountain Folks Festival "Songwriters Showcase" in Lyons CO. She has shared the stage with a diverse group of performers including, Cheryl Wheeler, Patty Larkin and Richie Havens. Russell Hall of Performing Songwriter Magazine said, "the Montana based troubadour writes passionate songs that brim with confidence, elegance and restraint, original songs that make her an artist to watch."
This year finds Adams on the road, touring in promotion of her independent releases. She continues to receiving steady airplay across the country and abroad, expanding her grass-roots following with her warm and inclusive performances. Fiercely talented, elegantly skewed, Adams releases a glittering, astute collection of smart songwriting with even smarter delivery, redefining contemporary folk music.
Back to schedule
---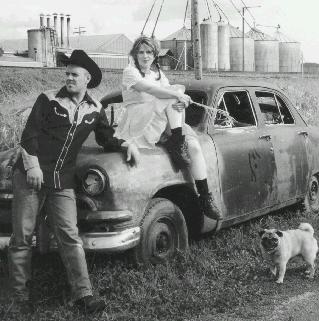 "Some solidly heartfelt and honest country music"
-Scott Homewood, Freight Train Boogie
"The Believers sing with heart and conviction"
-Jim Lauderdale
"Spellbinding" -Austin Americana.com
"Man...The Believers were great!"
-Buddy Miller (from the stage after their performance as openers for Buddy and Julie)
"Craig Aspen and Cynthia Frazzini have back porch singing down to an art"
-Nate Lippens, The Stranger
Back to schedule
---
Having grown up six blocks from legendary Route 66, singer-songwriter Nancy K. Dillon dreamed of exploring parts unknown. A native of Oklahoma City, Dillon headed to the west coast, eventually landing in Seattle, WA, where she spent the last two decades establishing herself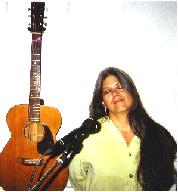 The daughter of composer/sax-man/renegade PhD and church choir director Bob Dillon, Nancy grew up absorbing the sounds of big band jazz, antique electronica and church hymns. Hailing from the same artistically fertile "red dirt" as Woody Guthrie, Jimmy Webb, and Kevin Welch, Dillon's musical sensibilities are rooted in a rich Southwestern musical tradition that gives her music a sense of windswept spaciousness and a keen insight into the details that matter.
Nancy helped form the modern cowgirl band Ranch Romance in the late 80s and performed jazz standards in a duo with virtuoso guitarist John Miller. Then Dillon fronted the Air Streams, a neo-honky-tonk band much sought after by Seattle's burgeoning swing dance scene. From 1991-98, Nancy hosted a popular Saturday morning radio show on KBCS. Since 1996, Dillon has performed regularly at the Tractor Tavern with Seattle's Hank Williams Revue, sung at the Portland Waterfront Festival with the Nora Michaels/Paul Whistler Band and remains in demand as a harmony singer for both live performances and studio recordings.
Nancy performs her special brand of twang-pop in and around Seattle as a solo artist, in a duo with Michael Hill and with alt.country band, The Nancy Boys. She is also a member of Western Swing super-group, Way Out West. Dillon is currently recording a full-length solo recording for release in 2004.
Back to schedule
---
Joe Jencks' life-long interest in folk music led him to undergraduate and graduate studies in Vocal Music Performance, Choral Conducting, and Music Education. In addition to performing opera, jazz and classical music, Joe has also acted in musical and dramatic theater. While living in Seattle during the 1990s, Joe became entwined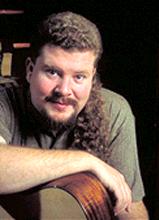 Joe's style is both fierce and tender. Writes Bill Fischer of the Victory Music Review: "He has a remarkable tenor voice that's capable of great strength and sweetness in the same moment, much as was Phil Ochs' voice. His guitar is always a dead-on accompaniment to his songs' intentions." Joe has an inspiring ability to connect genuinely and intimately with audiences of diverse ages and backgrounds.
Joe Jencks' newest CD, I Hear Your Voice, was released in January, 2003, and is being hailed as a significant work of modern folk music. "This is not a collection of naval-gazing tunes from your average singer-songwriter, these are inspiring songs!" says Ron Olesko of WFDU-FM, Teaneck, NJ. Joe's earlier CD, What Kind of Brother, released in 2000, received national acclaim for it's powerful songwriting and passionate singing. Joe's song "Auto Mechanically Declined" has been used on the legendary NPR Show Car Talk and has been selected to be on an upcoming "Car Talk: Car Tunes" compilation CD, to be released by Car Talk in the fall of 2003! Joe Jencks is a proud member of A.F.M. Local 1000: North American Traveling Musicians Union, and a founding member of the musician's co-op, Seattle Performing Songwriters. Joe's CDs are currently available through the Seattle based record label, Turtle Bear Music.
Back to schedule
---
With his original ballads, funny topical songs, and musical stories about real people, Steve Key easily wins new fans to his view of the world. He's a seasoned professional who has played the big folk festivals in Philadelphia, Winnipeg and Kerrville. And he's opened shows for Richard Thompson, Christine Lavin, Jonathan Edwards and Tom Paxton.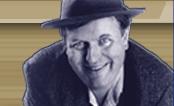 Between Trains, Steve Key's debut album, was released in 1989 and brought much critical acclaim and radio airplay throughout the Northeast. He signed with Local Folkel label in 1990, which released his CDs New Hope and Record Time. Also in 1990, Steve moved to Washington DC. He helped produce two volumes of Capital Acoustics, CD samplers showcasing local folk performers.
Country music star Kathy Mattea heard Key's song "Record Time" at Fast Folk's 10th Anniversary show in 1992, and decided to cut it on her Lonesome Standard Time CD for Mercury/Polygram. And so that song was heard all around the world, performed with orchestras and on TV shows such as the Nashville Network's "American Music Shop."
Steve moved to Nashville in 1995. He honed his songwriting skills, collaborating with such touring artists as David Mallett, Sally Barris, Pierce Pettis and Kate Campbell. But he decided to return to DC in the summer of 2000. Steve now lives in Seattle.
Back to schedule
---
How it all began was with a purple piano on Valentine's Day. jean mann was 14 years old when her mother bought the piano for the family at a price of $85. It was on that piano that jean taught herself how to play her first music, following basic chords and filling out the melodies with her own voice. After high school it was time to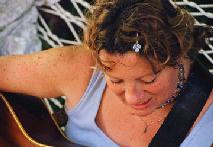 At 18, jean played her first guitar, and continued a relationship with it for an entire three months. For the next 15 years, jean was paying close attention to life and the world, with the same sense of honest wonder that rings so clearly through her songs today. In 1996, jean was given an old Gibson acoustic by a musical mentor to encourage her to play. "The sound that swelled out of that guitar the first time I plucked it was incentive enough for me to never put it down again, so I began to teach myself to play." In 1997, she made her public debut, at a pub in Ireland. "I had to get as far away as possible from anyone who might know me. I know, it's a little extreme..."
In 1999, jean began writing songs, and in August 2000, released her first full-length original CD, Blossom. The album, self released recorded as a duo Blue Flower Friday, has received rave reviews. jean has just completed her sophomore effort, seasons (Isabella Studios, Seattle) engineered by Brendan Hill (Blues Traveler). This is the first CD on her new label, blue flower friday records.
From her first open mic to her first and second albums, the last seven years have taken Jean on a journey that winds around love and love lost, success and sorrow, in and out of dreams, and straight through the heart of anyone who has the happy chance of hearing her music. Jean was born in Northwest Washington in 1961; her father an insurance broker, her mother took care of hearth and home. She lived in a brick house with her parents and six siblings, on the shores of Lake Whatcom; days upon days spent amphibiously in the summertime, a blithe existence surrounded by brown lunch bags with wax crayon notes from mom, and "ALWAYS the cookies were homemade." Taking her mother's devotion and her father's common sense, Jean moved from her childhood home at age 19, and has used her parents' gifts in becoming the independent, insightful and down-to-earth artist she is, making herself heard in and around the Seattle area and on down the tour road.
Back to schedule
---
Kathryn Mostow was born singing. Her parents recall that she sang in her high chair, often while chewing (thus planting the seeds for future years of multi-tasking). At age 9, she joined a professional children's choir, and performed nationally and internationally. While at Brown
Kathryn picked up a housemate's guitar in December 1997, thinking she'd play around with it a bit and that would be it. To her surprise, a song emerged during that first session. She kept plucking out chords, and staged her first concert, in February 1998, in a rented schoolroom. Over the next three years, Kathryn began to play out, and was an immediate hit at Seattle-area open mics. In a leap of faith, Kathryn quit her job in March 2000 to do music full-time. In April 2000--soon after she'd made her "debut"--Kathryn was invited to join 17 other songwriters to establish the Seattle Performing Songwriters (SPS). She is featured on SPS's 2001 compilation CD, and she showcased with SPS at Folk Alliance in 2001.
Kathryn recorded a 4-song CD in March 2000, which received radio play in cities such as Seattle, Santa Cruz, and New Haven, CT. Fans bought it up, and began asking for more. So in August 2001, Kathryn went into the studio to record her first full-length album, Gratitude. Gathering together some of the Northwest's finest musicians, Kathryn created an album that has already been selected for review as one of the Top 12 Do-it-Yourself Albums in the November 2002 issue of Performing Songwriter magazine.
Back to schedule
---
John Nelson is a Seattle-based songwriter and guitarist, as well as a producer/engineer. His sound is an eclectic blend of folk, blues, country, swing, and world music. His original compositions have appeared on albums, video soundtracks, radio, and TV. A native of the Northwest, he has played in a variety of groups, including The Air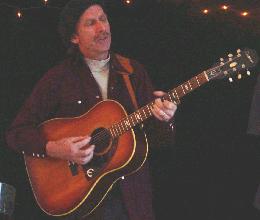 February 2003 marked the release of his first solo album, Soliloquy, an intimate collection of original solo and ensemble guitar instrumentals. This album was inspired by and dedicated to the Children at Children's Hospital in Seattle, WA, where he performs regularly for the patients and staff.
As a session musician, John has played on many studio dates including folk (Reilly & Maloney), roots music, singer/songwriter, swing, rock, pop, and blues. His current focus continues to be writing and performing with an emphasis on compelling melodies and rhythms.
His producer and/or engineer credits reflect a montage of styles including King Sunny Ade (Grammy nomination for World Music), Gary Peacock, Guitar Shorty, The Posies, Julian Preister, The LA Four, The Skatilites, Brian Bowers, Max Schwennsen (Doug Kershaw, Atlanta Rhythm Section), Michael Tomlinson, George Merrill and Shannon Rubicon (Whitney Houston), Jeff Simmons (Frank Zappa), Howard Roberts, and Ranch Romance.
Back to schedule
---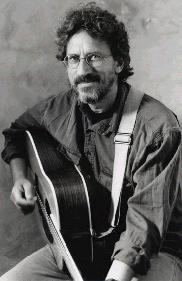 Began playing guitar at 15. Went to New York in 1970, Seattle in '71. Changed street singing laws in '74. Went to Europe in '77, began touring and living abroad. Returned to Seattle in 1983 where he still lives.
After seeing him perform at the High Sierra Music Festival in the summer of '97, Rob Bleetstein of Gavin wrote: "Jim Page is a lyrical genius with a guitar. This man personifies the word 'free-flow.' Page takes to the mic and the song invents itself on the spot; his talent is a natural wonder."
Jim Page has been on the scene for more than twenty years and his reputation continues to grow. Often cited for his biting political pieces he is in constant demand by the social movements of the day. He has shared the stage with the likes of Bonnie Raitt, Emmylou Harris, Dan Bern, Michelle Shocked, Leftover Salmon, Mickey Hart, J.J. Cale, Robert Hunter, Chuck Brodsky, and John Hammond. His songs have been performed by Christy Moore, Michael Hedges, John Trudell, The Doobie Brothers, Joanne Rand, Casey Neill, and (yes) David Soul.
Back to schedule
---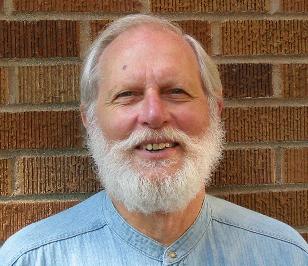 Founder of The Talismen Trio in the early 1960s, The Runcible Spoons in the late 1990s (2 men, 1 woman plus an arm-gartered pianist, specializing in works from the 1880s British Music Hall), he is now the flounder and so-called leader (without hook attached) of the Halibutts, a male trio performing oft-historical music of sea and fish. Often referred to as the Halibutt-head (the other members being the left and right cheeks) Jon casts a wide musical net, as he is also a member of the Vancouver (Canada) Folk Song Society Shanty Crew, who performed with acclaim at the 2001 Tall Ships Festival in Vancouver.
Traveling as the musical performer with Les Barker (Les claims to be as musical as cement) on two tours of the Northwest, Jon is often seen and heard at Northwest festivals, coffee houses, community centers, his bathroom and other non-smoking venues.
Finally, Jon has produced several musical stages for the Northwest Folklife Festival, including 2 years of Historical Songs of the Pacific Northwest which have been videotaped, and which he will be editing on his trusty Macintosh Powerbook using Final Cut Pro 4, for archival porpoises.
Back to schedule
---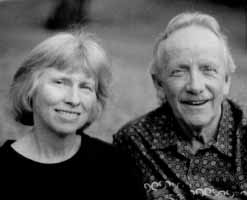 Writes John Weingart of WPRB-FM in Princeton, NJ: "This wonderful album is a reminder of the power of music... Without a word of overt politics, Together Again somehow serves as a small antidote to the fear, despair, and powerlessness that is part of our current world."
With a rich history and discography--as a duo and individually--Reilly & Maloney are back carrying the torch they lit in the 1960s and held high through the 70s and 80s. Don't miss any opportunity to let these two warm your heart again!
Back to schedule
---
In the spring of 2001, Seattle singer/songwriter Wes Weddell captivated the Northwest with his ambitions to chronicle the lives of contemporary Washington State residents in song. In sixty-five days cavorting around the state, the multi-instrumentalist produced nine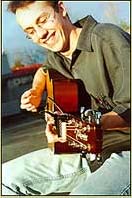 Hailed a "Modern-Day Woody Guthrie" by the Seattle Times and at once a "refreshing throwback" and a "pioneer" by critics, Wes belongs to a younger generation of folk musicians who work to incorporate elements of many well-established musical traditions into their own personal stylings. His particular approach offers a fresh take on the identity of American folk music by drawing from a multitude of musical disciplines, which provide a flexible backdrop for his clever and detailed lyrics. His poised musical delivery and celebrated storytelling ensure an entertaining and memorable experience for any listener.
Wes first appeared on the Seattle scene with an unannounced guest appearance at the 1999 Northwest Folklife Festival, and he has steadily increased his engagements across the region (& beyond!) since--much to the delight of his growing audiences. His efforts have gained the attention and respect of the Seattle Folklore Society, Portland Folklore Society, Washington State History Museum, Victory Music, Seattle Times, and Northwest Public Radio among many others.
Wes also currently spearheads a local musician showcase in Seattle called Puget's Sound.
Back to schedule
---
** HOTEL ROOM # 1105 **

Seattle Sounds in Nashville, 2003
L to R: Wes Weddell, Mary Lytle, Pat McFarland, Levan Lortkipanidze,
John Nelson, Marsha Reeves (picture Bill Corral)



*   *   *




Thoughts & love to Kim Townsend, who had to withdraw...




Special thanks to friend and founding member Pat McFarland for foresight,
support, initiative, & spirit--we'll miss you in sunny San Diego this year!!